As well as meeting new beers and breweries, the other thing the Irish Craft Beer Festival is good for is the festival one-offs. With a captive market of 10,000 people and two of the four days being over 12 hours of pouring (officially -- staff afters ran into the medium-to-large hours a couple of times), it presents the perfect opportunity to throw together a special small-run batch to fill out the taps on your portable bar.
Dungarvan can always be relied upon for this kind of thing, dry-hopping or oaking the standard range and then offering a rotating sequence of one-offs on the other handpumps. You'd need to be some kind of maniac to have been at the festival all four days to catch all six of them. I was told the IPA was a re-run of the excellent one they did last year, so just the five for me.
We'll get the
Session DIPA
out of the way first. A neat idea:
Simon
wanted something big and hoppy he could drink all day, so a 3.9% ABV pale ale at 60 IBUs was born. Sadly, the execution didn't live up to the concept: while there's a hint of orange skin bitterness showing what it could have been, the rest is astringent and bleachy. Ah well. That's why the Good Lord made pilot breweries.
Dungarvan Saison
was my first beer on the first day. It suffered a bit from the warmth of the cask but was otherwise spot-on: nicely spicy with a dash of tangerine and an overarching refreshing tartness. The first argument I've tasted in favour of Dungarvan doing the occasional keg. The
Wit IPA
-- quite the fashion these days, I believe -- reminded me of the Hopfenweisse genre, and Franciscan Well's example in particular. It's weightily textured with major banana flavours but then jumps unexpectedly sideways to a sudden hop sharpness. A very pleasant glass of misdirection.
There was a lot going on in
Dungarvan Amber Ale
, especially impressive at just 3.9% ABV. I got spices to the fore, and unctuous oily incense in particular. This is balanced against dry tannins, plus a little diacetyl butteriness. Last year the Rye Pale Ale was developed into Mahon Falls and the Amber Ale would be my candidate recipe for further development this year. The beer I was most looking forward to, though, was
Dungarvan Mild
. I've never met an Irish mild before and this didn't disappoint: 3.8% ABV with a sizeable chocolate element and finishing on a gently green hop note. Simple, elegant and very drinkable. I don't want this as a festival novelty: I want it in my local every day.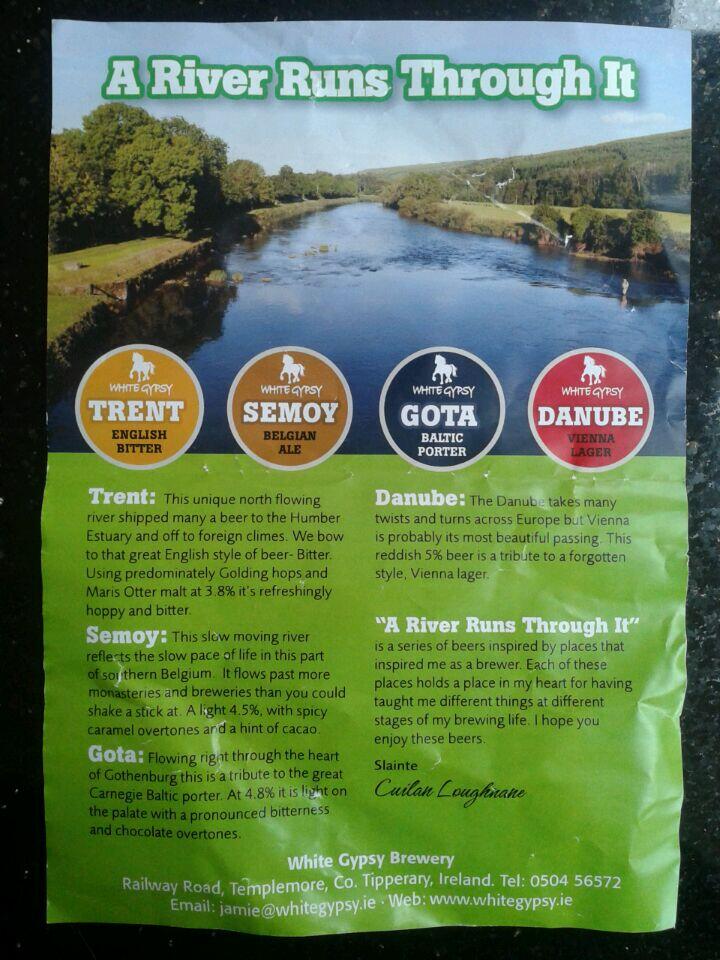 The other brewery that really pushed the boat out (wait, wait: you'll see what I did there) as regards festival specials was White Gypsy. They had a genre-spanning set of four grouped under the heading "A River Runs Through It", each named for a waterway (Aha! See?) appropriate to the style. They even printed an explanatory leaflet. There was a Belgian blonde ale called
Semoy
: just 4.5% ABV but tasting like much more, with huge heavy banana esters up front and enough carbonation to balance it with a dry carbonic quality. Some light white pepper and hop-induced celery seasons it, and the whole is set on a lightly chalky mineral base. A lot going on considering its modest strength. I left it late to try the
Danube
Vienna lager, though Aoife told me it was the biggest seller at the bar. It's the appropriate shade of red amber but a little too sweet for my liking: I'd have liked more of a lagery cleanness and maybe a smidge more hopping.
I heard few good words about the English-style bitter
Trent
, of which Jamie pulled me a half early on Friday afternoon and I tasted on a clean palate, but I really liked it. It poured a hazy gold and smelled sulphourously Burtonish. This sat next to an assertive waxy oily bitterness which coated my palate and left me still tasting it as I wandered around the hall with an empty glass looking for my next drink. The nearest thing to that punchy bitterness I've encountered was in the likes of Timothy Taylor's Landlord.
Gota
Baltic Porter was the last of the set, billed as a tribute to Carnegie Porter, though even lower of ABV at 4.8%. This comes through in the texture as it's quite light-bodied for the style, though with the appropriate amount of liquorice and coffee. Its dryness lends it an air of schwarzbier, but really it's just a tasty black lager and it's best not to dwell on the specifics of style.
The beer I probably heard most about in dispatches was Eight Degrees's
Amber Ella
, a warm-fermented successor to last year's show-stopper Ochtoberfest. It's a similarly luxurious dark amber colour and has a heady peach/plum aroma. We swap lager lightness of touch for an aley full body and the flavour is all tangerine tang with a lacing of sharper pine resin. Just like the Ochtoberfest I'd expect this to sell out fast when it appears in bottles.
We conclude this tour at the Trouble Brewing stand. The headline here was
Ormeau Dark
, third in a sequence of homebrew competition winners scaled up to commercial level. Technically it's an oatmeal stout: a style I've never been much of a cheerleader for but this captures all the smoothness of oatmeal with none of the putty flavour I tend to dislike. The hopping is very generous giving it an air of urinal cake on the nose but transforming into a gorgeous combination of dark fruit, marzipan and rosewater on tasting, plus some lovely creamy chocolate. The other headline was a collaboration Trouble did with Galway Hooker. Sadly they couldn't find a better name for the result than
Troubled Hooker
. It's a 6.3% ABV pale ale and a deep orange in colour. Bitterness is relatively low and instead the hops contribute a sweet and perfumey character. Combined with the heavy texture it narrowly avoids soupiness. Interesting as a festival one-off experiment but nobody's go-to beer. Lastly there was
Kill Lager
: not strictly speaking a Trouble beer as it's brewed for, and by, Dublin's Dice Bar on the Trouble kit and normally badged as "Sparta Pils". It's pale gold and lacks much by way of malt or hops, dominated instead by a major apple flavour. Acetaldehyde? Maybe, but I wouldn't count it as an off-flavour: it's actually quite refreshing in this.
That's it for this round of the festival floor, but if you fancy making a bit of cash while helping the Trouble guys make more beer, you can do that
here
.